Resources
Many organizations in the country offer valuable support and links to resources on their web pages. This page is a combination of links to those web pages and separate recommendations for schools and teachers looking to implement the best global education programs possible. All of those pages have bibliographies and link to programs and other resources that will not be duplicated on this site.
Note: Please visit the websites of our Wisconsin partners who provide excellent local rescources. Their links can be accessed from the previous page.
This page is under construction and will be updated on a regular basis.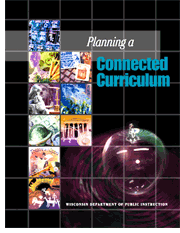 DPI curriculum guides are written by Wisconsin educators for Wisconsin educators. Click on the images for further information. The ideas in the guide for a Connected Curriculum are pertinent to global education that is often designed in an interdisplinary context.
World Savvy is a nonprofit organization with offices in Minneapolis, New York and San Francisco. They provide professional development for educating globally competent students.
iEARN (International Education and Resource Network)
is a non-profit organization made up of over 30,000 schools and youth organizations in more than 140 countries. iEARN empowers teachers and young people to work together online using the Internet and other new communications technologies. Over 2,000,000 students each day are engaged in collaborative project work worldwide.
EdSteps is a grassroots effort to create a resource for teaching and assessment. Rather than assessing work based on a pre-set rubric, EdSteps uses student work as the starting point. After collecting thousands of work samples in each skill area, EdSteps uses a unique process to assess the student work samples, rank them, and place them on a continuum. This process is grounded in research and driven by those who work most closely with students. Find the Edsteps Global Competence Matrix here.
Mapping the Nation is a new interactive map that pulls together demographic, economic, and education indicators—nearly one million data points—to show that the United States is a truly global nation.